The food had just arrived at our table when we got the call from the hospital. We had spent the day at my grandpa's bedside and had found a place to eat that was only three blocks away, but by the time my folks and I made it back to his room, he was gone. All that was left was for mom and me to kneel on either side of his bed and take his hands in ours, to bend over him one last time and to weep. It was raw and beautiful and desperate – an outpouring of love and grief. It was a sacred moment in one of those thin places where heaven seems close. And in that moment, I remembered the women who wept for Jesus on the day that He died.

My freshman year of high school, our church put on a large Easter pageant over the weekend of Passover. My mom was cast to play Salome – one of the women who wept for Jesus at the foot of the cross. Through each of the three performances, she and the actress playing Mary cried real tears as the familiar scenes unfolded: Jesus stumbling under the weight of his cross, the nails driven into his body, his final words and death. The scene ended as his disciples laid him across his mother's lap in a recreation of Michelangelo's sculpture The Pieta.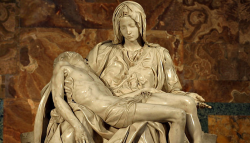 In the famous sculpture, Mary's face is still and sorrowful as she gazes at her son's broken, lifeless body. She meets this moment – the one she has been dreading for 34 years – with a serenity that I cannot imagine. Instead, I picture Mary's face ravaged with grief and horror. Her hands tracing the outline of her son's face like she did when he was a baby, trying to memorize each feature while she can. The calluses on his fingers bring memories of him as a little boy, learning how to work in the carpenter shop. Her friends gather round and weep with her.

I imagine them following Joseph of Arimathea to the tomb. The tears that must have fallen as they cared for Jesus' body, working quickly as the Sabbath was approaching. The love they felt as they cleaned his wounds and dressed him and wrapped him carefully in clean cloths, positioning him on the narrow shelf as if he were asleep. It is almost impossible to leave him there. I can hear the sobs as they walk away.

Jesus encountered women who wept throughout his ministry: the widow of Nain grieving her only son, the Canaanite woman desperate for her daughter's healing, Martha's angry sobs after her brother died, and woman who washed his feet with tears of gratitude and anointed them with perfume. It may have been the love they felt in his presence that allowed them to let down their guard. Perhaps it was the vulnerability that comes with daring to hope. Women were drawn to him in their most desperate moments, and he met their tears with acceptance and love, and often, a miracle.

So it is especially beautiful that when He rises from the grave, Jesus' first impulse will be to find the women who are weeping. There they are at the now-empty tomb, crushed with grief, reeling with horror, crying so hard they cannot even see clearly. And there He Is, with his words of love and gentle smile. Yes, on Sunday morning, there will be tears of joy and hope for the future.

But Friday is for mourning and for the love that remains, even after death. The tears are a sacrifice poured out for him. The weeping women are doing holy work. It is all that is needed on Friday.